Oscar and Johnny met back in March 2012 through a mutual contact in the wine trade. Both shared a passion for aged Riojas and felt that there was a market largely unexploited internationally for these beautifuly made wines, relatively unknown to the outside world.
They came across a treasure trove of over 100,000 bottles of perfectly cellared Riojas, vintages from 1964 through to 1995 and in the run up to Christmas 2012, sold the entire collection overseas. From this moment on they never looked back, their friendship, trust and respect for one another grew and in 2013 they teamed up to create Fine Rioja Wines. Today, the Company holds an extensive stock of over 18,000 bottles in our temperature cotrolled premasis in Rioja.
We hope you enjoy the website and will share in their passion for the hidden secrets of Rioja!
Fine Rioja Wines Asia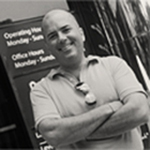 Chris Dury
Brisbane, Australia – 1966
Chris has been a permanent resident in Singapore for 15 years where he lives with his wife Sam, persuing a career in the corporate sector. In 2012 he the left the world of finance to set up some of Singapores most reknowned cafés and restaurants.

Chris has connections in the world of food and beverage throughout Asia and has been actively representing Fine Rioja Wines interests over the past three years. In 2016 we are delighted to anounce the formation of Fine Rioja Wines Asia Pte Ltd.